NBA Breakfast Special: Bulls on Parade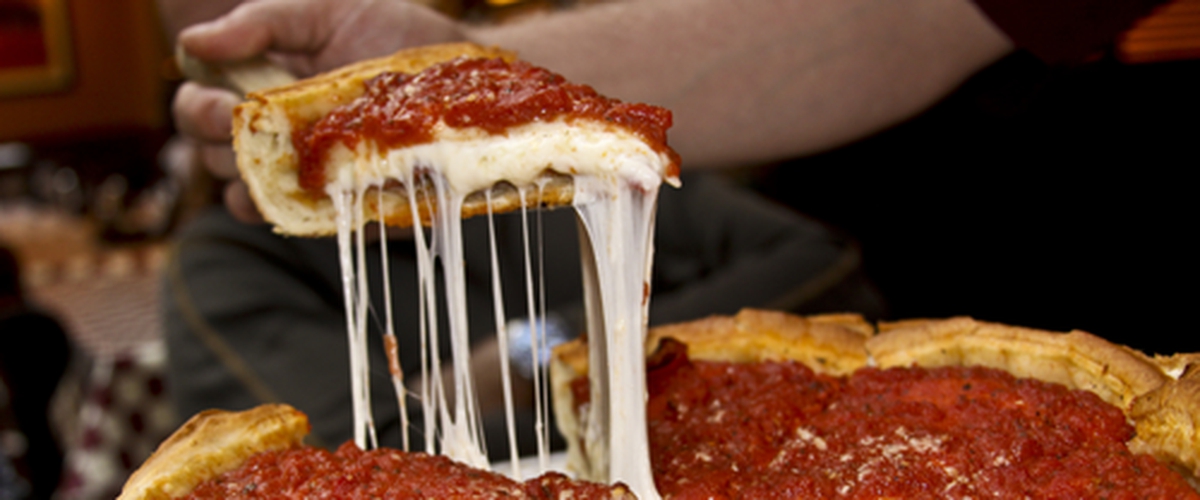 (image credit: Chicago Pizza, Smyrna, GA)
by Fox Doucette
OK, it's officially Panic Time in Boston. The Chicago Bulls, who played like a dysfunctional shitshow for 80 games but have gone full frontal balls-out psycho in the last four to first make the playoffs and now grab a 2-0 lead as an eight seed, look like they've solved Brad Stevens and the Celtics.
Is Stevens the Marty Schottenheimer of basketball? Is the death of Chyna Thomas a sign that the gods have turned on Beantown and will now resume cursing the city after giving the Patriots one more championship? Is this all just a circle-jerk in which media members have nothing better to do than seize on small stories to try and create broad, sweeping narratives where none exist? Are you picturing a freeze-frame of the hero and this as an overwrought narration like the end of an episode of The Rocky and Bullwinkle Show or Sheep in the Big City? Baaa?
Who knows. All we know is that the Bulls won 111-97 behind double figures from six players and no more than 22 from any one of them (Jimmy Butler and Dwyane Wade each had 22.)
SCIENCE!
The Clippers won Game 2 99-91 at home against the Jazz, and they won it the way you'd expect the Clippers to win a game in which Rudy Gobert didn't play. DeAndre Jordan had 18 points on 9-of-11 shooting (!), the Clips shot 44-of-84 (52.4 percent) overall, and the Jazz, between the 13 turnovers, the paltry three offensive rebounds, and the slow-as-1996 pace of play, only attempted 70 shots from the field the entire game.
The highlights, such as they were:
And Speaking of Retro...
Whatever else may be said about the Toronto Raptors, and we've said a lot about the Toronto Raptors (almost none of it complimentary), they have an identity rooted in old-school basketball and they execute it better than anyone. It's hard to complain about a team that plays any style if they execute.
And man, did the Raps execute after their annual ritual of losing Game 1. They beat the Milwaukee Bucks 106-100 to even the series, getting 23 points on 9-of-18 from DeMar DeRozan and 22 on a hyper-efficient 6-of-12 from Kyle Lowry, who owned the free throw line to the tune of 8-of-9.
Make your shots (48.1 percent for the game). Keep the other guys from making theirs (Milwaukee shot 41.4 percent, and Giannis Antetokounmpo played antihero ball going 9-of-24 to get his 24 points). Get the rebound, take care of the ball (both of these stats were about even), and the rest will take care of itself.
Highlights:
We got coverage all playoffs long, so keep it here, this is your NBA Breakfast Special on Pace and Space. Thanks for reading!