NBA Playoff Breakfast Special: Walking in Memphis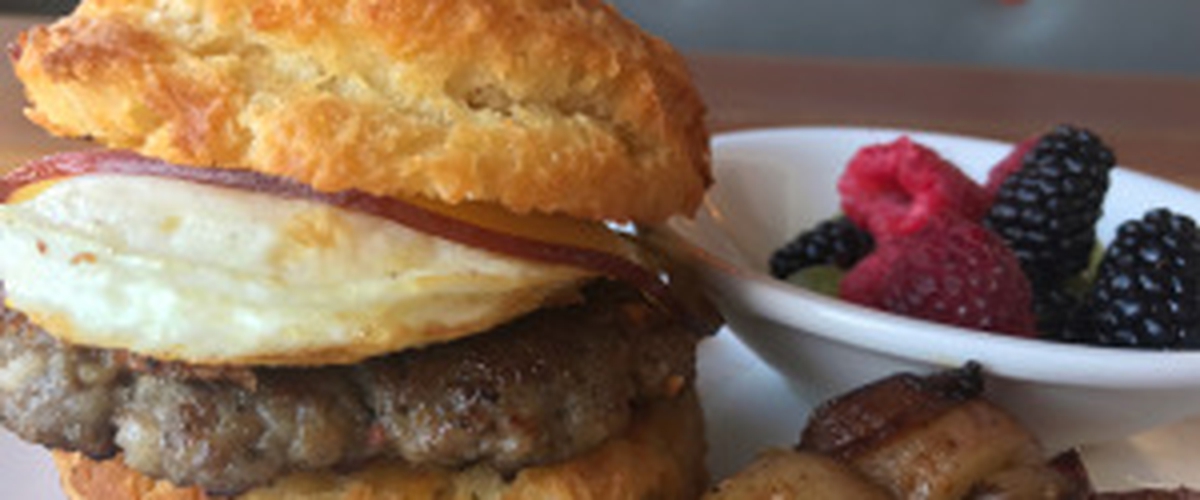 (Sunday brunch burger via Smokebelly BBQ in Atlanta)
by Fox Doucette
Wait, what? The Memphis Grizzlies have tied the series 2-2 with the San Antonio Spurs?
That's how it went down at the FedEx Forum in Memphis on Saturday, as the Grizz managed a 110-108 win over the Spurs to ensure that the series will go at least six games.
Mike Conley was the man of the match, scoring 35 points in a near-triple-double effort, pulling down nine rebounds and dishing eight dimes to round out his stat total. He powered a Grizzlies offense that shot the hell out of the ball from long range (12-of-27, 44.4 percent) and the line (22-of-24, 91.7.) Strong fundamentals will get you everywhere, especially in front of your home fans.
Along the same lines, Memphis enjoyed a huge rebounding advantage, 52-37, as they tore up San Antonio every which way but loose down low, and that was enough to overcome the one weakness; Memphis turned the ball over 22 times to the Spurs' nine.
A game that shouldn't have been this close generated plenty of highlights; note Kawhi Leonard going for 43 points in defeat:
Dub Nation
Portland really doesn't stand much of a chance in this series, do they? The Warriors won Game 3 119-113 even though Steph Curry and Klay Thompson engaged in random acts of masonry throughout, combining to shoot a dreadful 18-of-46 from the field. 9-of-23 (39.1 percent) isn't awful on three-pointers, but that same percentage on two-pointers? As Charles Barkley would say, "thass turrable, Ernie."
Still, the Dubs won the turnover battle 16-7, and that was enough to get them the extra possessions to prove decisive in the contest despite Damian Lillard and CJ McCollum both topping the 30-point mark:
The Ugliest Playoff Game This Year
I doubt this 87-76 yawner the Raptors and Bucks put on to tie their series at two games apiece is going to be topped. This game was atrocious.
DeMar DeRozan had 33 points on 12-of-22 from the field and 9-of-9 from the line, as his opposite-of-entertaining workmanlike style generated efficiency the old-fashioned way. Gail Goodrich sends his regards, DeMar.
Well, That's How You Win Game 3 At Home
OK, what if the Pacers hadn't played the second half of their Game 3 with their hands clamped around their own necks throughout? You might've gotten a score more like the Hawks' demolition of the Wizards by an impressive 116-98 count.
Atlanta did this despite only three double-digit scorers; Paul Millsap had 29, Dennis Schröder had 27, and Tayshaun Prince (!) had 16. The Hawks out-rebounded the Wizards 50-42 and won the turnover battle 15-11. This was a complete game for them.
Just imagine if they made their free throws; Atlanta was a terrifying 19-of-32 (59.4 percent) at the stripe even though Dwight Howard only accounted for a 1-of-3 on his way to five points.
The Wiz got 29 from John Wall and jack-all else from the rest of the team:
And Finally...
WHAT? It's Shaqtin' a Fool!
Some serious quality players plus Marcus Smart in there.
We're going full-tilt through the first round of the playoffs, so stay tuned and thanks for reading!