Kevin Love is the Key to the NBA Finals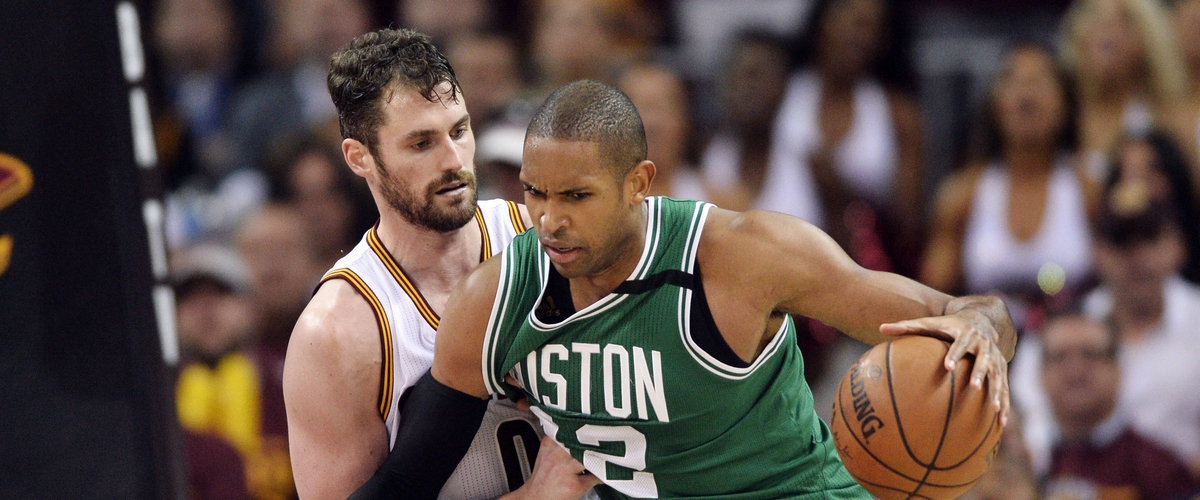 by Brad Winter
For whatever reason, movie critics seem to love disagreeing with what a regular viewer believes. When Metacritic gives Anchorman a 63 out of 100, you know something's seriously wrong. How in the world do you give the movie that provided us with the greatest fight scene in the history of film anything less than a 90?
Any movie in which Steve Carell murders someone with a trident should win an Oscar.
The only thing critics agree with us on is that sequels are always worse than the original. It's a fact. Anchorman didn't need Anchorman 2, Rocky shouldn't have been followed up with five other films, and Star Wars most certainly didn't need the prequels (Ed.: Brad, have you seen The Empire Strikes Back?). Good things—no matter how great—do not need to be recreated.
Strangely enough, sports don't like to follow that rule. The epic Clemson-Alabama duel from earlier this year proves this; the original was awesome, but the 2017 edition was insane. Meanwhile, back in the '90s, the 1997 NBA Finals between the Jazz and Bulls was a series to remember, but the second installment in '98 contained the most watched game in league history and arguably the NBA's most iconic moment.
Last year's NBA Finals decided not to follow the sequel rule either. After the Warriors-Cavs matchup of 2015, every NBA fan was begging for a rematch. In case you forgot what happened, LeBron managed to drag a supporting cast led by Matthew Dellavedova (!) and Timofey Mozgov (!!!) to within two wins of taking down a 67-win juggernaut. If you exclude Game 4, LeBron averaged 39 points, 13.6 rebounds, and 9 assists for the series, which is just about impossible to accomplish in 2K, let alone real life. After his impeccable effort, the question for the 2015-16 season became simple: what could LeBron do with an actual team around him?
The answer? Defeat the team that broke the regular season win record while inspiring an immortal meme. The 2016 Finals seemed to end the interest from fans in the Dubs-Cavs 'rivalry'. The leftover questions from the original best-of-seven were answered and everyone was ready to see something different.
Of course, that all changed on July 4th, 2016—or as I like to call it, Durantependence Day. Durant's move may have destroyed any smidgen of parity the NBA had, but it also sprinkled some spice on the inevitable end-of-season matchup and raised a truckload of new questions. For starters: if you have four of the best 15-20 players in the world, does it really matter if the other team has potentially the greatest player who ever lived?
Thanks to Durant's move to Oakland, the upcoming NBA Finals is perhaps the most anticipated series ever. Between these two teams there are 7 current All-Stars, 7 MVP trophies, 4 All-NBA team members, $228 million worth of players, and a whole lot of bad blood.
All the focus will be on the super-duper stars during this series and deservedly so. It's plausible that LeBron, KD, and Steph are the three best basketballers on earth. You'd have to go back to the Lakers vs. Celtics Finals of the '80s to find a similar cluster of elite talent in a series. Add in Kyrie Irving, who suddenly morphs into the coldest shot-maker in the association around this time of year and Draymond Green, who was the NBA's premier defensive player this season, and you get the feeling that there is maybe a little too much talent on display.
While the likes of Durant and James will control the headlines, to me, the spotlight should be on Cleveland's third wheel, Kevin Love. Love killed my beloved Celtics by averaging 22 points, 12 rebounds, and at least one sick outlet pass per game. He also set the three-point line on fire by connecting on 53.5% of his triples through five games.
Love is a bit of an anomaly in today's NBA. He's a surefire star who's capable of taking over a game, but the manner in which he goes about his business is a fair way away from the norm. Love's a high-volume three-point shooter, an excellent operator in the post, a strong rebounder, but an awful defender. No other star matches those traits. In fact, Love is so unique that he was not just the only person to average 19 points, 11 rebounds, and 2.4 made threes per game this season, but he is the only man to do so throughout the course of a season in history.
Fitting such a player into a system without building around him is incredibly difficult. Some writers scoff at Ty Lue for not using Love in the same manner that he was utilized during his Minnesota days, but they fail to realize that using him as a first option who resides at the high post takes the ball out of the hands of LeBron and Kyrie. Using him predominantly as a floor spacer who destroys mismatches when teams put a smaller defender on him is probably the best way to incorporate him into this offense.
Defense is an even bigger problem for Cleveland with Love. As a power forward in the modern day NBA, being able to D up on the perimeter is paramount. This is something the sluggish Love simply cannot do; any remotely coordinated forward should be able to blow by him without thinking twice. One antidote to this issue is to have him defend centers on the interior and have the quicker Tristan Thompson chase shooters around the arc, but even this strategy has its issues as it forces Love to become your primary rim protector. Opposing teams can just run a 1-5 pick-and-roll to get Love defending the perimeter again if they should feel motivated to.
Last year, Cleveland just gave up on attempting to assimilate Love into their Golden State game plan. Love was plainly terrible while trying to defend the Dubs' fast-paced three-point barrage. The Warriors played seek-and-destroy with Love, forcing him to defend the pick-and-roll on just about every possession. The Cavs almost gave up on Love, and by the end of the series, it was clear Ty Lue preferred going small with the ancient Richard Jefferson.
Here's the problem: Cleveland can't use their Jefferson gimmick again and expect to get away with it because (a) Richard Jefferson is 36 years old and (b) the Warriors added Kevin freaking Durant. With Durant in the rotation, the Dubs will be able to score on any lineup Lue throws out. No matter how hard the Cavs try, the Warriors will hit shots—and a lot of them at that. For Cleveland to win, they have to out-offense them. Going small with Jefferson instead of Love should theoretically improve their defense, but it won't matter against an offense as great as Golden State's. It's highly likely that the small gain they make by taking Love out of the rotation on defense will be offset by the loss of his offensive capabilities.
For the Cavs to win, they need Kevin Love—preferably the Kevin Love that showed up against Boston—to help keep pace with the Dubs' scoring. LeBron and Kyrie are amazing, but when the other team has Klay Thompson, KD, and Curry, you need another weapon or two.
However, the Cavs could very well struggle to unleash Love's full offensive potential in this series. If the Warriors decide to use Draymond as his primary defender (they'll do this unless the Warriors use Green as their chief LeBron-stopper, which they have shied away from in the past), Green will sniff out every single one of Cleveland's tricky sets that they use to get Love open from behind the arc. Add in the fact that Draymond is far quicker than his opposite and will beat him to the spot on every play and it's possible that Green will evaporate all of Love's catch-and-shoot opportunities. The Cavs could always send Love down to the block to utilize his height advantage, but then again, Green only allowed 0.74 points per possession on post-ups this year, per NBA.com.
While Cleveland need to out-offense the Dubs for them to win, it will, of course, help out their chances if the Cavs can provide even a sliver of resistance on defense. They won't be able to do this unless they find an appropriate hiding spot for Love. Leaving Love on Draymond is just asking for trouble. Mike Brown (Steve Kerr?) will tell his team to run their pick-and-roll sets with Draymond as the ball-handler and make Love wish he was still in Minnesota.
Placing Love on whoever is playing center for the Dubs will be their go-to strategy as mentioned earlier, but JaVale McGee could kinda-sorta-unbelievably make the Cavs pay for doing this. (Side note: JaVale McGee is a Finals X-Factor?!?!?!)
McGee's athleticism and direct rim-rolls will be tough for Love to keep up with; the Warriors will play seek-and-destroy once again if he puts even one step wrong. These matchups will also force Tristan Thompson to guard Draymond. Thompson is smart and has quick feet, but he's more of a big who can guard smaller players rather than a big who guards smaller players. Despite the issues, this looks like the safest path for Cleveland to go down.
From what I have described here, it should be pretty clear that Lue will need to explore a bunch of different ways to get the best out of Love on both ends of the floor. One such method could be to play him at the five spot, by replacing Tristan Thompson with a wing.
By going small with Love at center, the Cavs would be forcing a big man to guard the UCLA product and not Draymond Green. Golden State's array of bigs won't be able to keep Love of the three-point line, so they could end up walking directly into a bombardment of wide open triples.
If the Warriors did end up making Draymond guard Love when the Cavs go small, they'd have to deploy their center onto a wing, which is an even worse matchup.
Going with Love at center would likely force the Warriors to go small themselves. While this usually spells death for opposing teams, the Cavs are probably the only team in the league with the horses to go toe-to-toe with a Dubs small ball unit. Going small means that hiding Love is a little bit tougher, but they could always assign him to Andre Iguodala, Pat McCaw, or whoever the guy not named Steph Curry, Klay Thompson, Kevin Durant, or Draymond Green is on the floor. The Warriors will try to punish Love for hiding on a wing, but as long as their four All-Stars aren't scoring, the Cavs should consider it a win.
If you couldn't be bothered reading everything I just wrote, here's the tl;dr version for you: Kevin Love's involvement in this series could very easily decide which franchise will receive its second banner in three years. The Cavs cannot afford to get another no-show from their star power forward, while the Warriors would love it if they did.
No matter what happens with Love, we as fans should be about to receive a great series. The two most stacked teams in the league with a ton of bad blood between them? Count. Me. In.
Let's basketball.
Like what you see here? Make sure to come back every day for more great content! Also, don't forget to follow me on Twitter (@BradWinter12)!